Did you already use the new ChatGPT and Scrab.in Integration together with Posts/Events features?
Meet the safest LinkedIn lead generation tool, Scrab.in!
Designed by growth hackers to answer every question about how to generate sales leads through LinkedIn. Automate smart engagement strategies to reach your prospects sooner and hit your SQLs goals faster!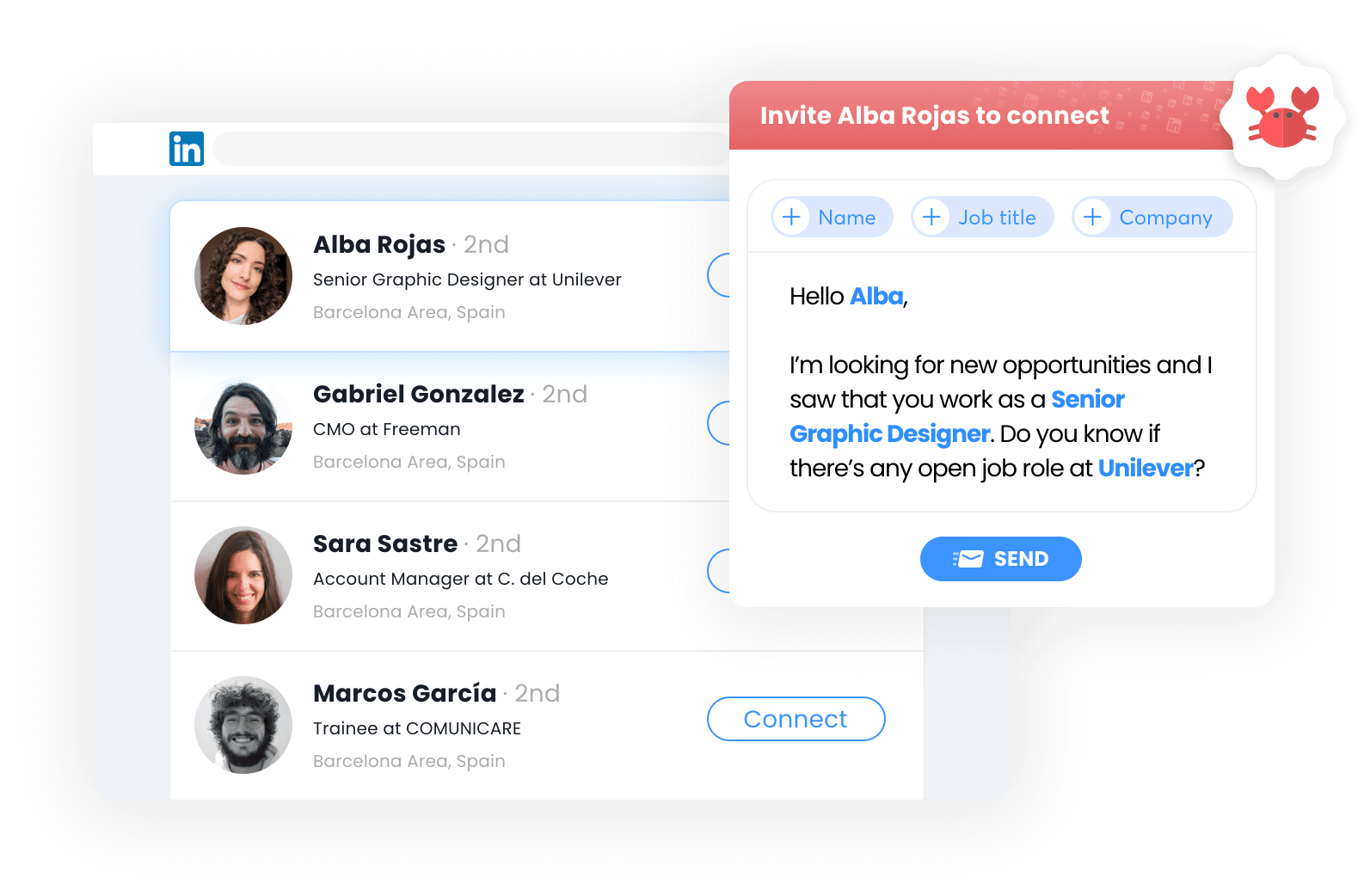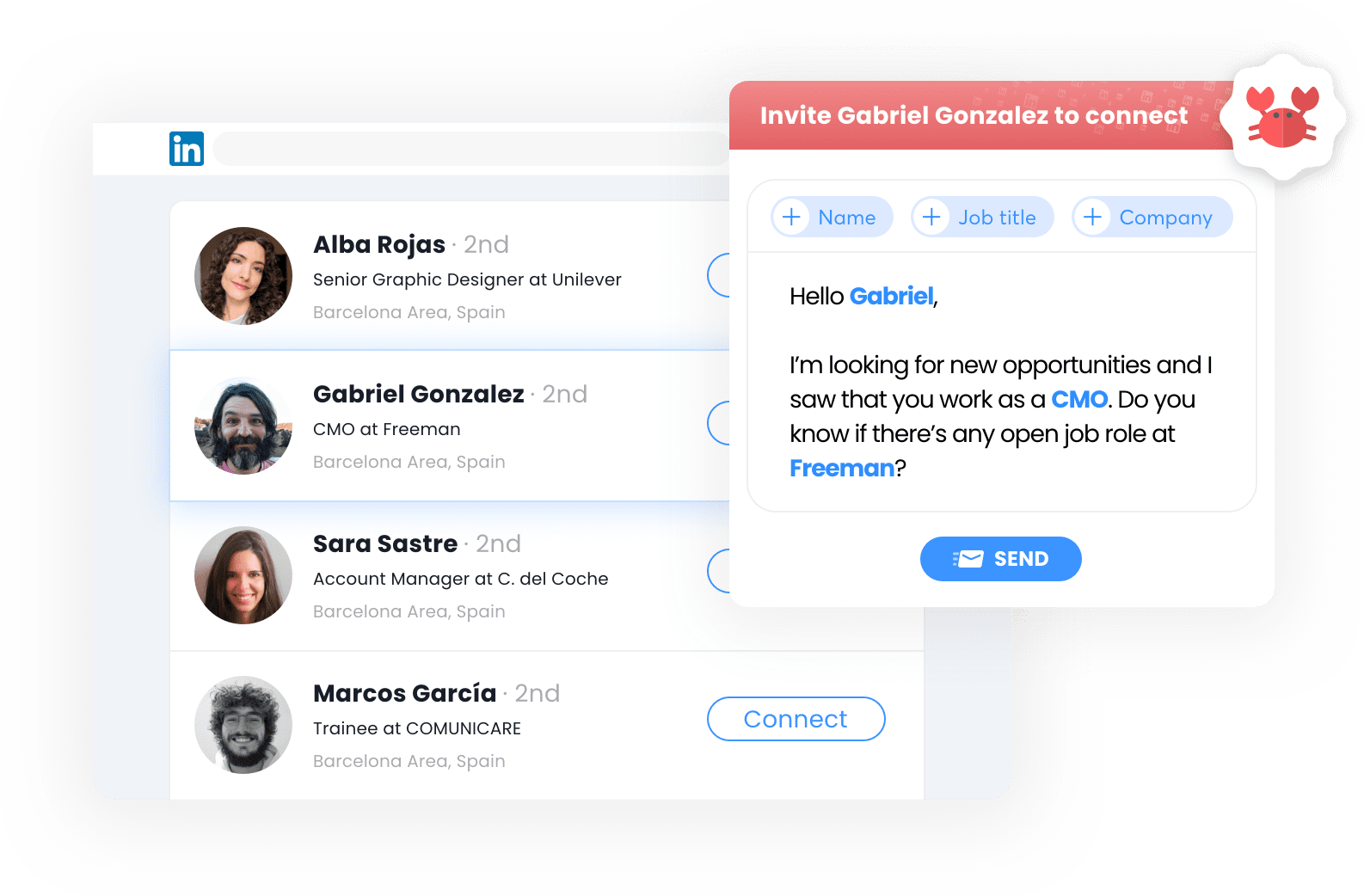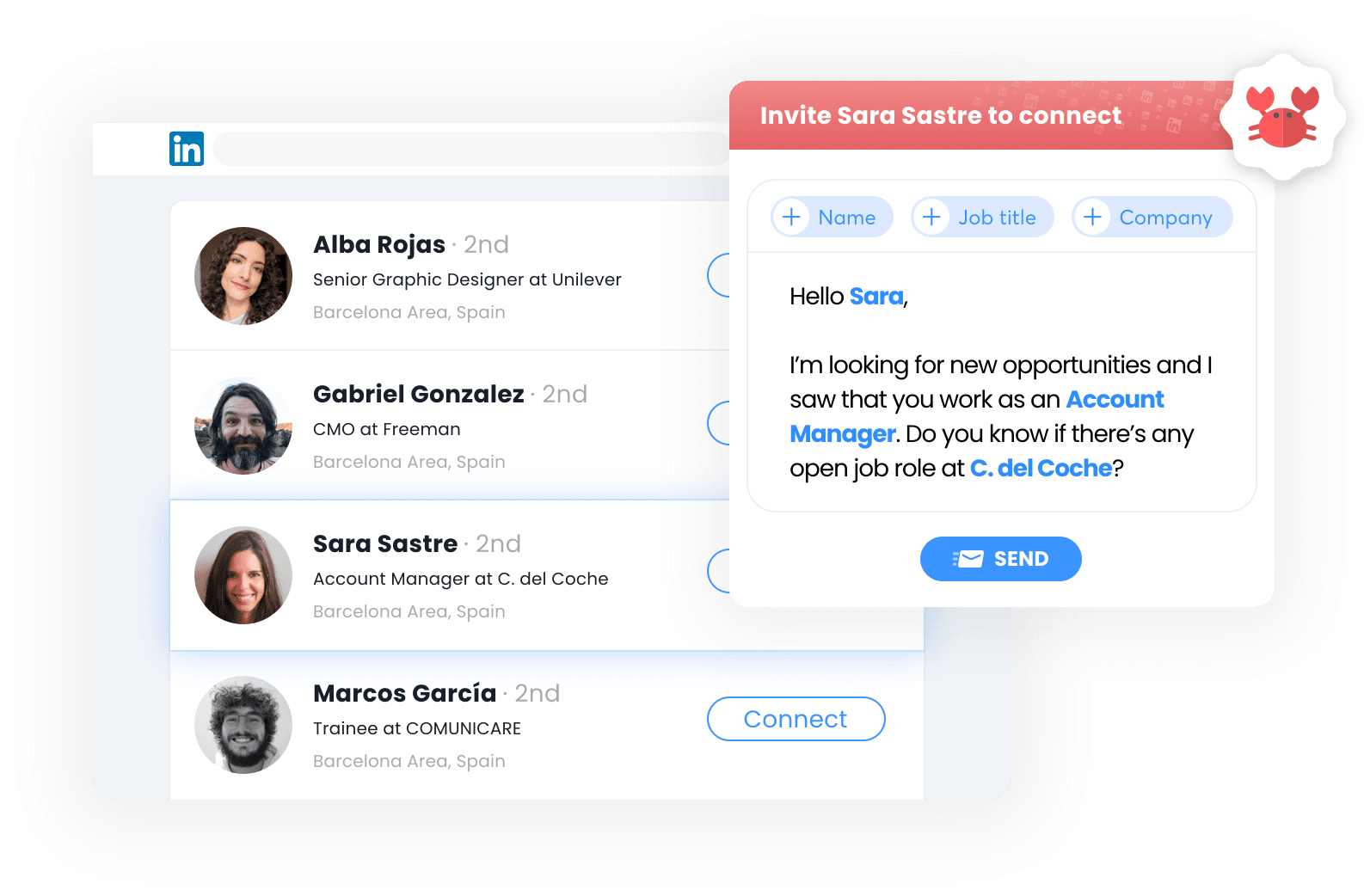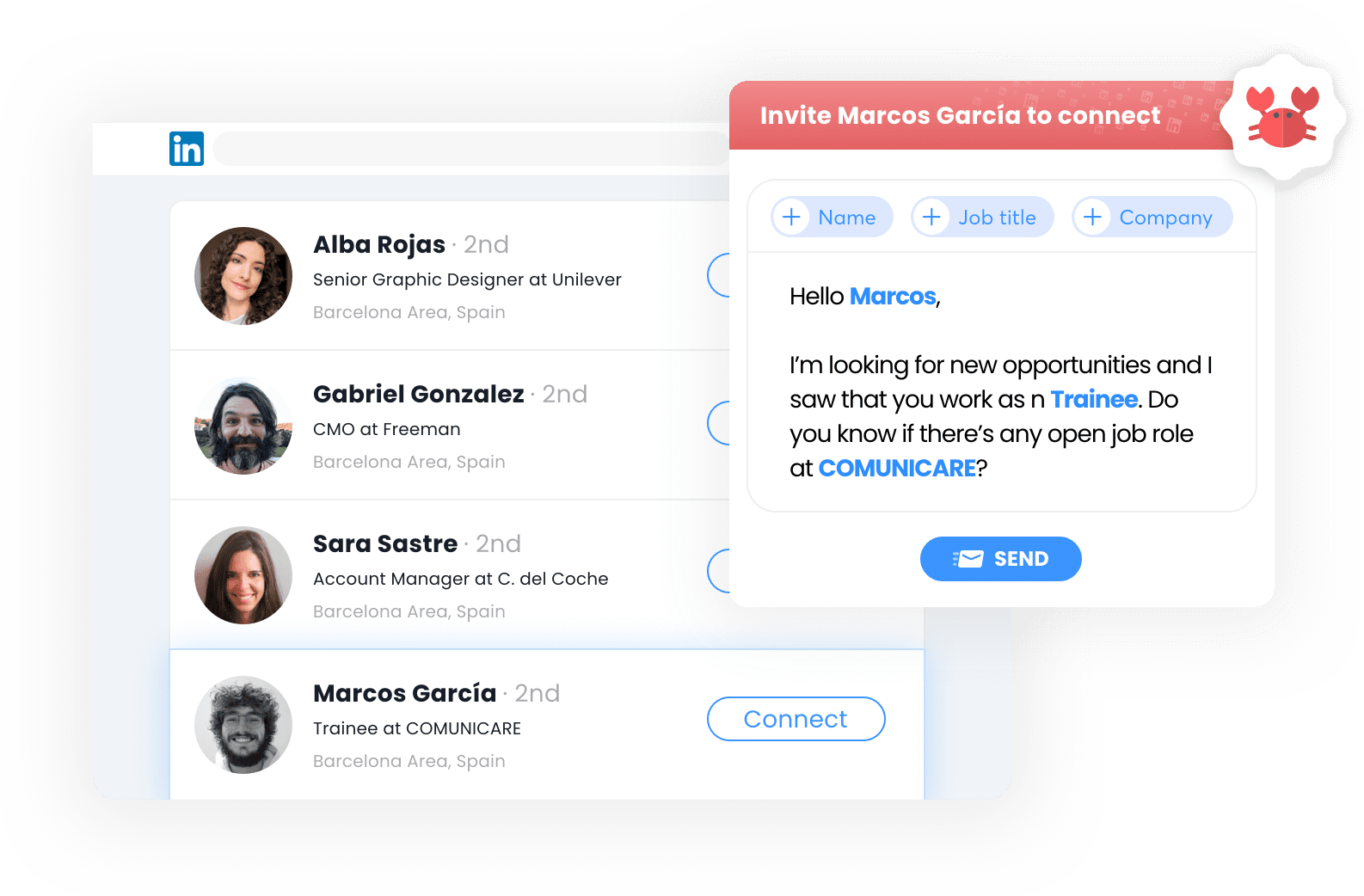 Automate Your Linkedin Lead Generation With Just One Click
Scrab.in automates all the actions of your Linkedin profile / Linkedin Sales Navigator / Linkedin Recruiter (Full & Lite) to help you growth hack lead generation without spending hours on the screen.
Scan and visit 1st, 2nd and 3rd degree connections
Export your leads in CSV
Send invitations, messages and validate skills (endorsements)
Generate qualified leads in an automated and segmented way
Visit up to 15,000 profiles per month
Exclusive extension approved by the Google Chrome Store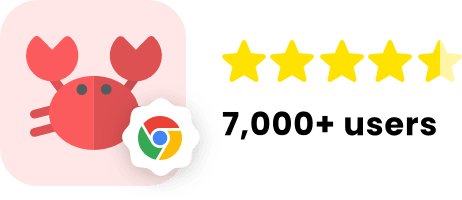 The most reliable tool on the market, we have the extension approved by the Google Chrome Store, 5-star reviews and more than 5,000 users who have trusted us.
Get 200% more visits to your LinkedIn profile with automated messages, connection invites and profile visits
Setting up a LinkedIn lead generation campaign has never been easier
Scrab.in was made to make things easy. That's why it simplifies the most time-consuming tasks you need to take up for LinkedIn lead generation, and you can set it all up in just a couple of clicks.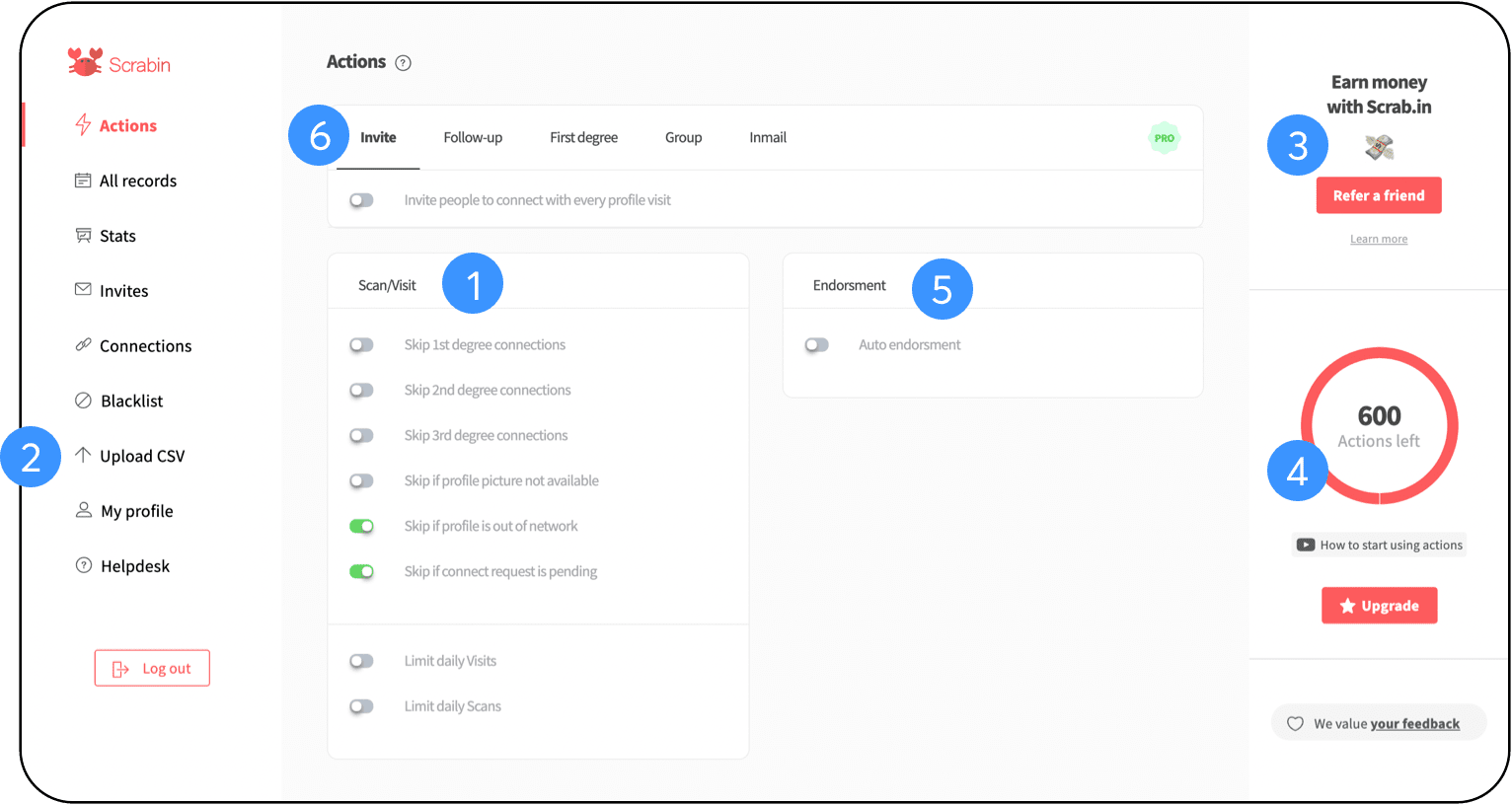 Visit and scan through your prospect profiles while sipping on a latte
Scrab.in allows you to filter out prospect accounts by letting you choose to skip first/ second/ third level connection profiles.
You can also choose to easily skip profiles that are not verified or don't have a profile picture in place, making it easier to scan through prospects.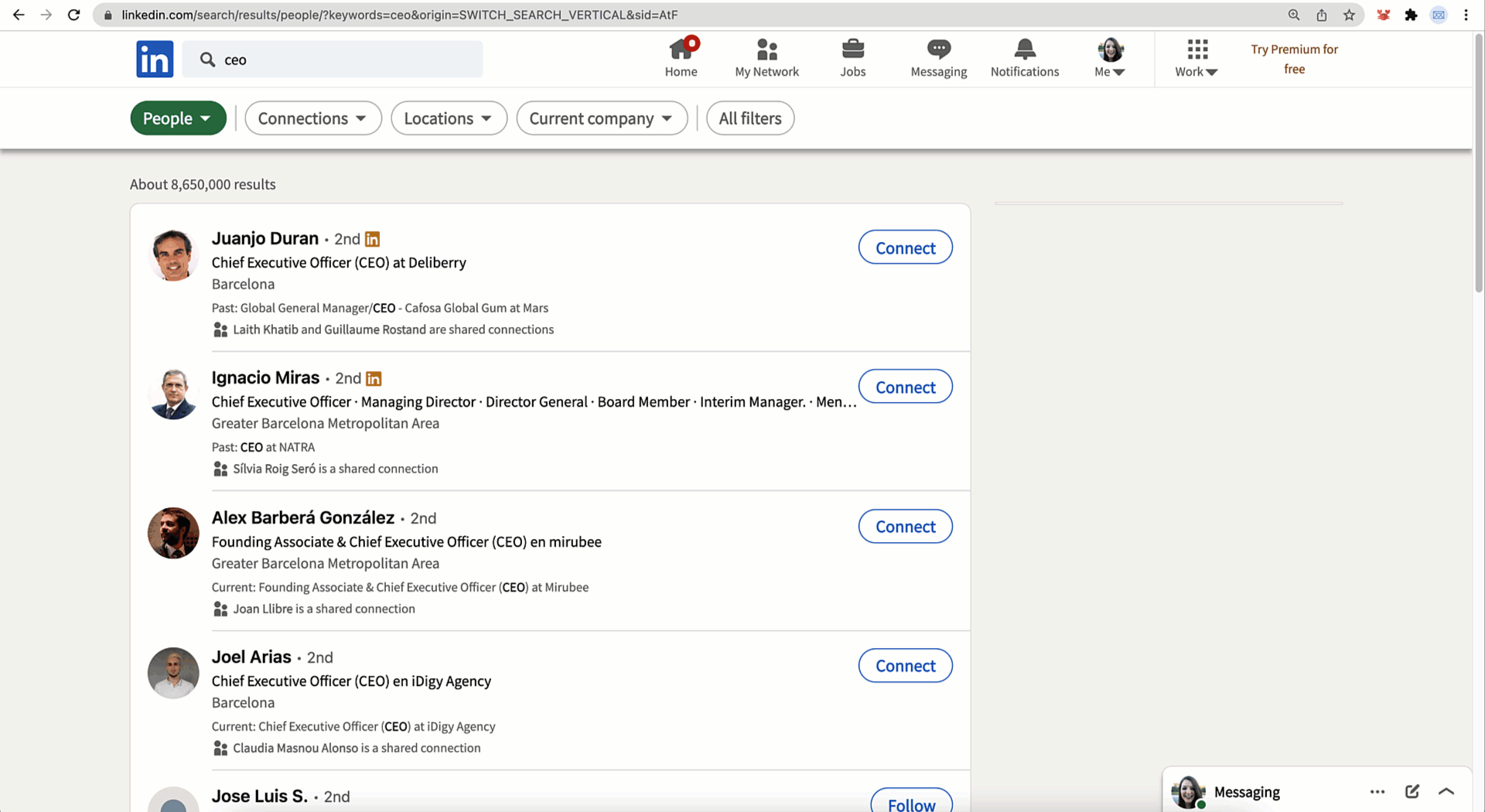 Earn more brownie points by validating the skills of other users
Scrab.in Endorsement takes LinkedIn lead generation and profile building to a whole new level. It allows you to validate or endorse the skill sets of other users, bringing more attention to your profile and encouraging them to do the same for you.
Activate or deactivate Endorsements according to your goals
Validate up to 30 skills per profile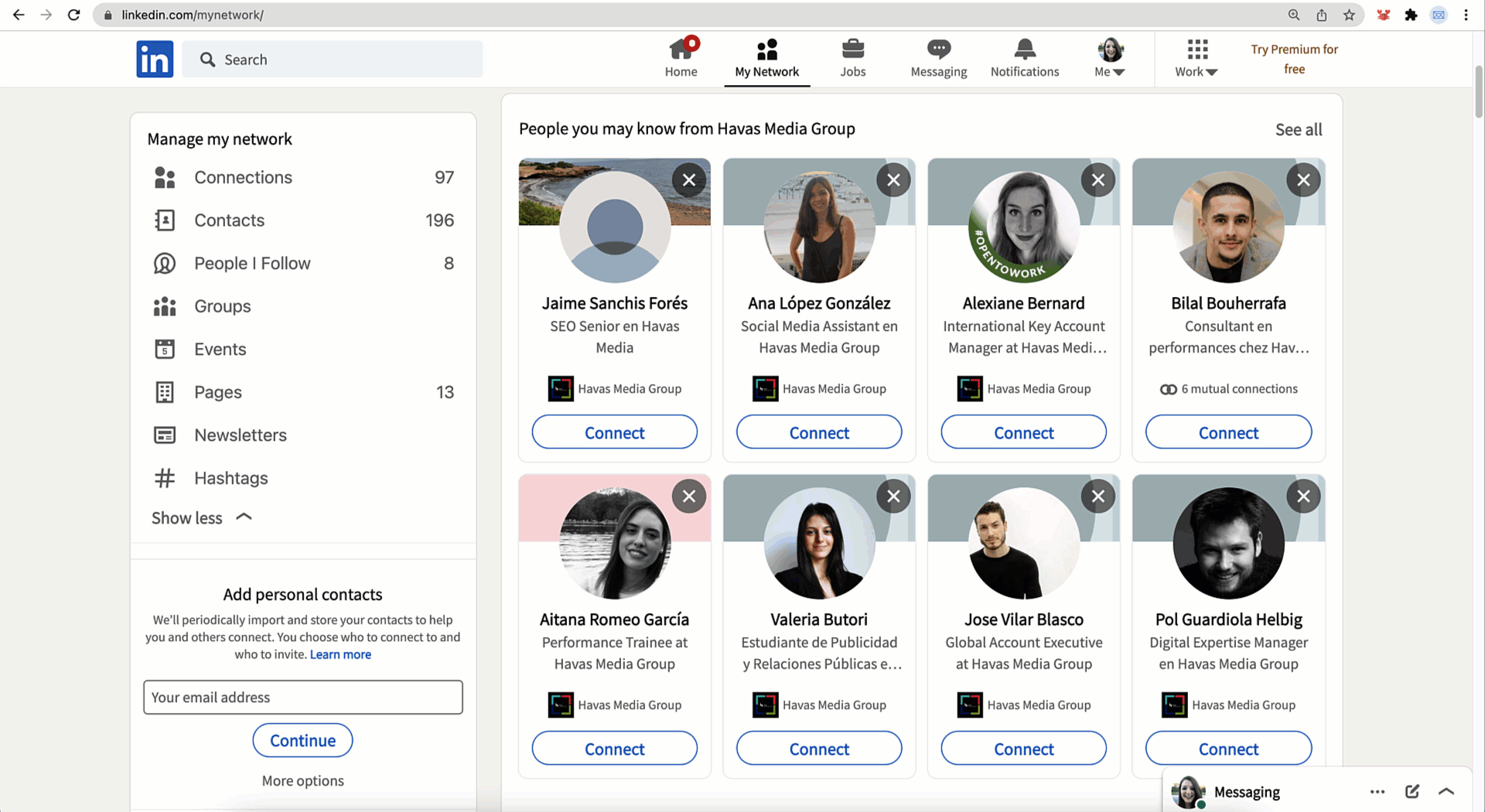 Increase your Linkedin visibility and connections
With Scrab.in's Invite Action functionality, you can send connection requests and messages to profiles that match your audience persona. You can send up to 500 invitations per day, which is 14,000 invitations per month and per account.
Build your connections and followers in no time!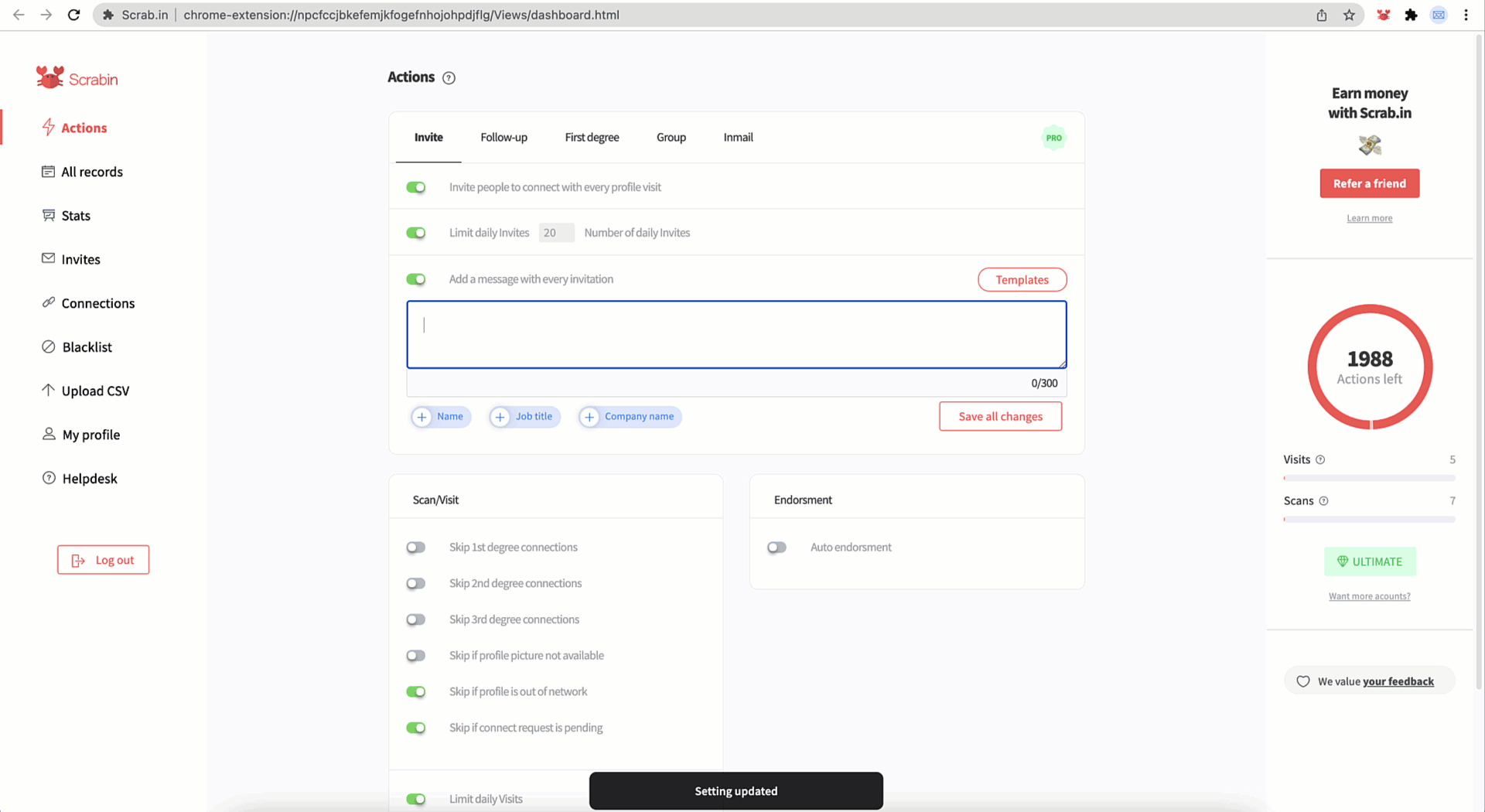 The fastest way to Generate Leads on LinkedIn and Download them in CSV
The tool allows you to generate leads on LinkedIn in a very intuitive and actionable manner. It further segments these leads according to your target audience profiling.
With a couple of clicks, you can also download these leads in excel file format to store the data on your computer or use it for other marketing campaigns with detailed fields.
Emails
Names and surnames
Job positions
Business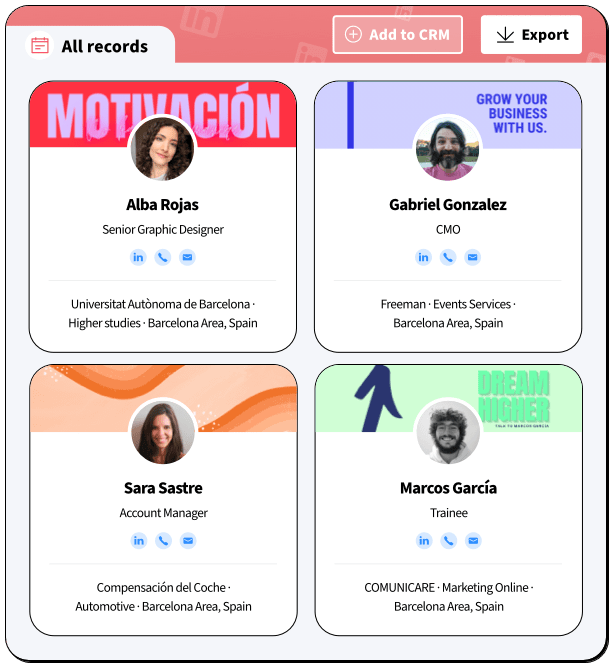 Get the maximum functionality by uploading your CSVs to Scrab.in
Upload your CSV files to manage outbound marketing campaigns and send messages to your segmented lead lists.
Keep your lead lists segmented
Send personalized messages to each segment
Upload and download your CSV whenever you want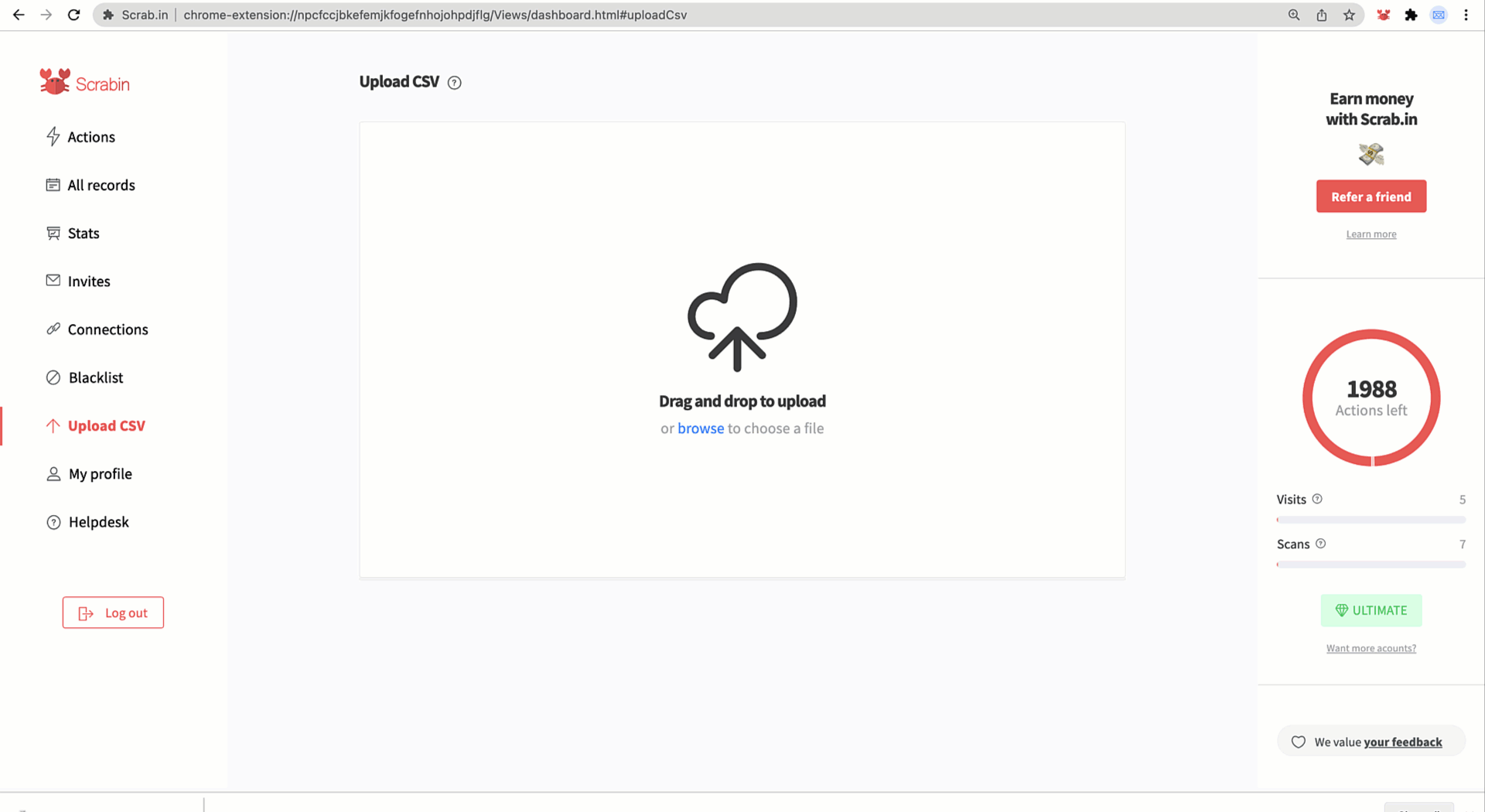 All in 1 solution for LinkedIn lead generation and profile building
Scrab.in automatically performs all the actions you need to grow on LinkedIn and make your value proposition known.
Find customers
Send invitations
Promote your website or videos
Generate leads
Build a community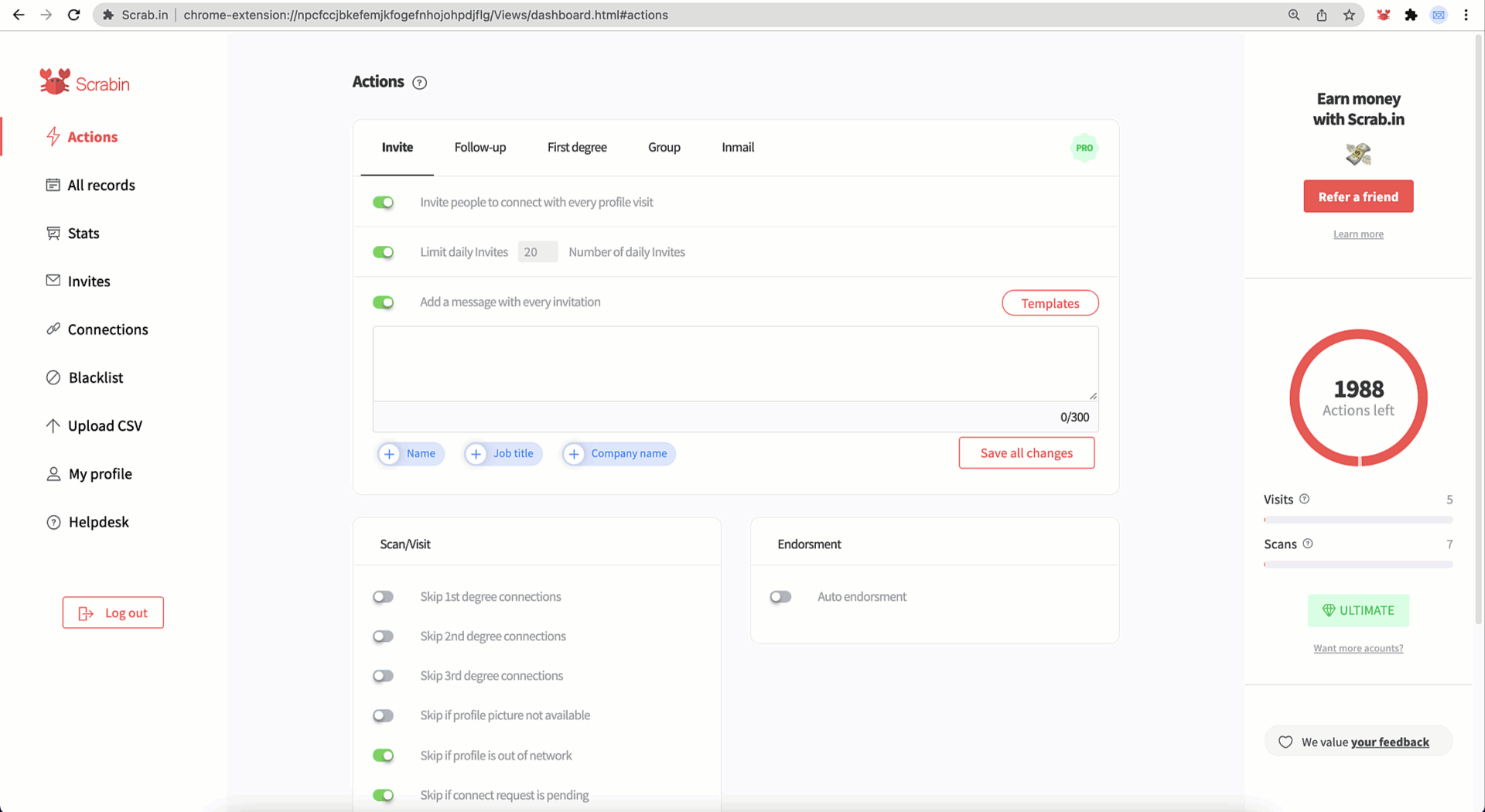 How do Scrab.in actions work?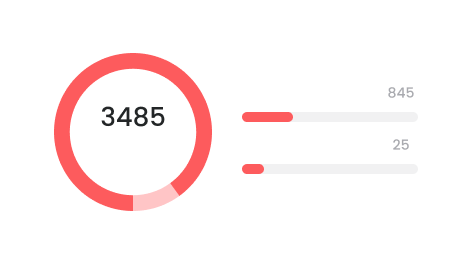 Actions are renewed every day! 🤩.
Messages attached to every action won't spend extra actions! 🦀
You only spend actions with every visit taken to the .csv list. Uploading it won't spend credits 📝
You can also earn money with our referral program
Become a FindThatLead affiliate and earn 10% cash as a sales commission from us. In turn, your referrals get to enjoy a 10% discount too. A win-win for everyone!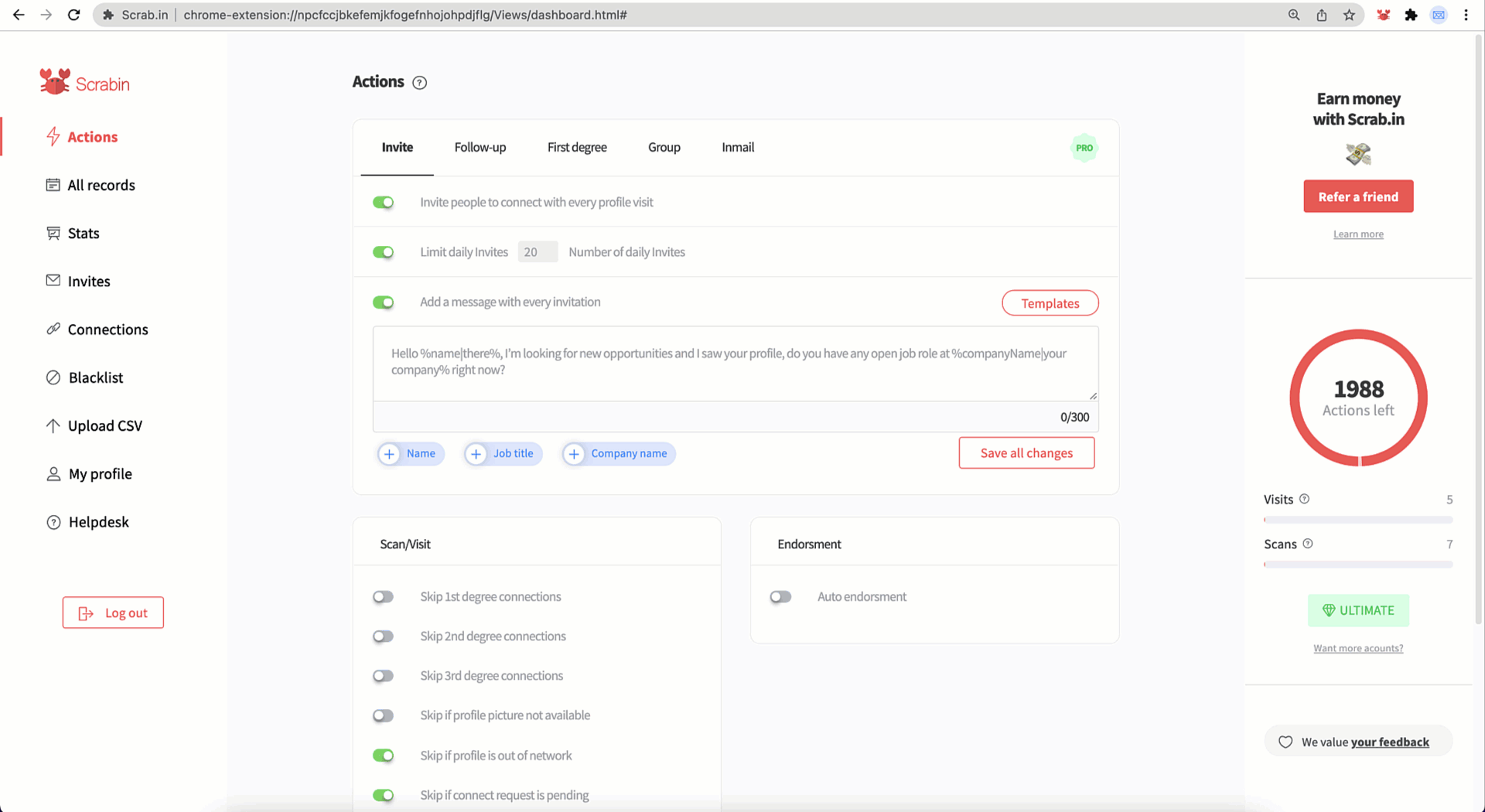 Share your link
Give a 10% discount
Get a 10% discount
Outbound marketing and LinkedIn lead generation experts recommend Scrab.in
This is what they say about us






Start automating your LinkedIn lead generation with the best plans and prices
1 Plus License
billed monthly
monthly, billed anually
250 daily visits
750 daily scans
Connect automatically
Send messages to first and second degree contacts
Grow your network
Secure and encrypted purchase
1 Ultimate License
billed monthly
monthly, billed anually
500 daily visits
1500 daily scans
More visits and Scans Plus:
Upload CSV files
Send InMail Messages
Auto-Accept and Follow-up Messages
Send Messages to Groups
Secure and encrypted purchase
8 Ultimate Licenses
billed monthly
monthly, billed anually
Everything included on Plus:
Upload CSV files
Send InMail Messages
Auto-Accept and Follow-up Messages
Send Messages to Groups
Secure and encrypted purchase
We ensure your success and security at all times!
Maximum security of your data
We are a company with a globally recognized track record. Your data is safe with us at all times!
Monthly updates
We constantly update and improve our algorithm to always offer you the best prospecting and automation tools for LinkedIn lead generation.
Customer service and technical support
Our team of professionals is always available to give you a hand in whatever you need and equip you to succeed.
Do you have any questions about Scrab.in?
We will be available and happy to answer you :)