Maybe you are the CEO of a company and you are looking for ways to improve your online presence and attract more potential customers.
Or maybe you work in the marketing department of a company and have been told that you need to create a company profile on LinkedIn.
The reality is that one of the most effective ways to attract leads to your company is through LinkedIn, the most important professional social network in the world.
Come on, in this article I'm going to show you everything you need to not only create a company profile, we're going to leave everything ready so that this page can generate leads on its own.
Shall we begin?
What is the LinkedIn company page?
The company page on LinkedIn is a space where companies can showcase their products, services and corporate culture.
Let's say it' s like a virtual showcase for your business, a virtual channel that allows you to connect with customers, employees and potential partners.
In my opinion,all companies, whether B2B or B2C (even public organizations) should have a presence on LinkedIn through a company page.
Is the page the same as the LinkedIn company profile?
We usually mean the same thing when we say company page as company profile, but there can be confusion.
There are company LinkedIn profiles that are individual, that is, a person with two LinkedIn profiles, one for their personal tasks and another for prospecting, content creation or simply for corporate image with their company.
Why create a company profile on LinkedIn?
Although they may seem obvious, there are so many benefits of having a company profile on LinkedIn that it is chaotic to list them.
Broadly speaking, these are the main reasons why companies should have a LinkedIn profile:
Increase brand visibility: What we talked about before, is to have a showcase within LinkedIn.
Lead generation: Through content or as a result of an Outbound Marketing strategy, people will be interested in looking for references about the brand, and here we come into play.
Connect with partners and customers: At Scrab.in it happens to us a lot, they mention our tool in some publication and we have an open space to communicate with them.
Talent recruitment: When a person is interested in your company, they are very, very likely to end up visiting your LinkedIn company page.
Share content and establish authority: It is one more way to "educate" your target, in addition, this way you can position yourself as a possible leader or expert in your sector.
Requirements to create a company profile on LinkedIn
Creating a company profile on LinkedIn is not restrictive at all, anyone can create one, but yes, before you need to meet a series of "requirements" to create a company profile:
Have a personal LinkedIn account with your real name and photo.
Be employed with the company and listed in the work experience section.
Have a verified corporate email address (@scrab.in, for example).
Have at least one Intermediate profile category
How to create a company profile on LinkedIn from scratch?
Creating a company profile on LinkedIn is quite simple if you follow these steps:
Step 1: Log in to LinkedIn and access the "Companies" tab.
Let's get down to business, first of all log in to your personal LinkedIn account and go to the "Products" tab in the main menu.
Here you will find the option to create a new company page.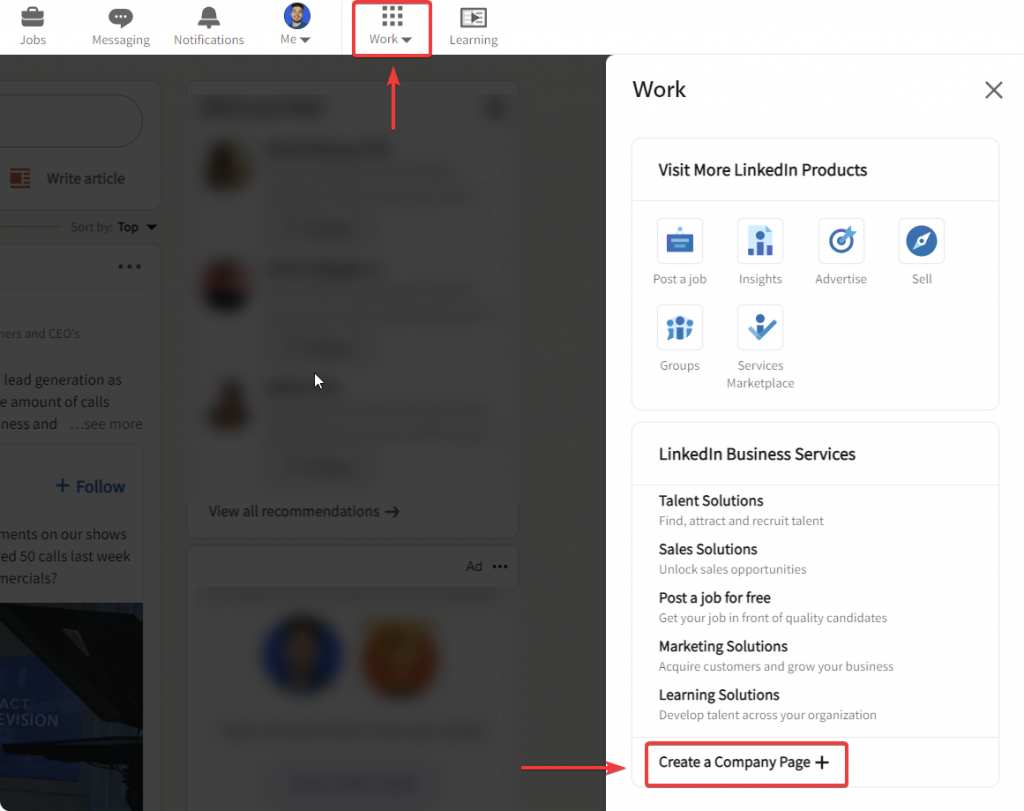 Step 2: Add company information
The next thing is to set up the company page. And where do you do that? In the tab below "Set up your company page", make sure you complete this:
Company name: Use the official and complete name of your company to make it easily recognizable.
Logo and banner: Upload high quality images of the logo and an attractive banner that represent your brand's visual identity.
Description: Write a concise but informative description of your company, including its products, services and value proposition.
Company URL: Add your company's official website address.
Industry: Select the industry to which your company belongs.
Company size: Indicate the number of employees working in your company.
Location: Add the physical address of your company or its headquarters.
And as I'll tell you a little later, try to use here the keywords of your industry to improve your SEO on LinkedIn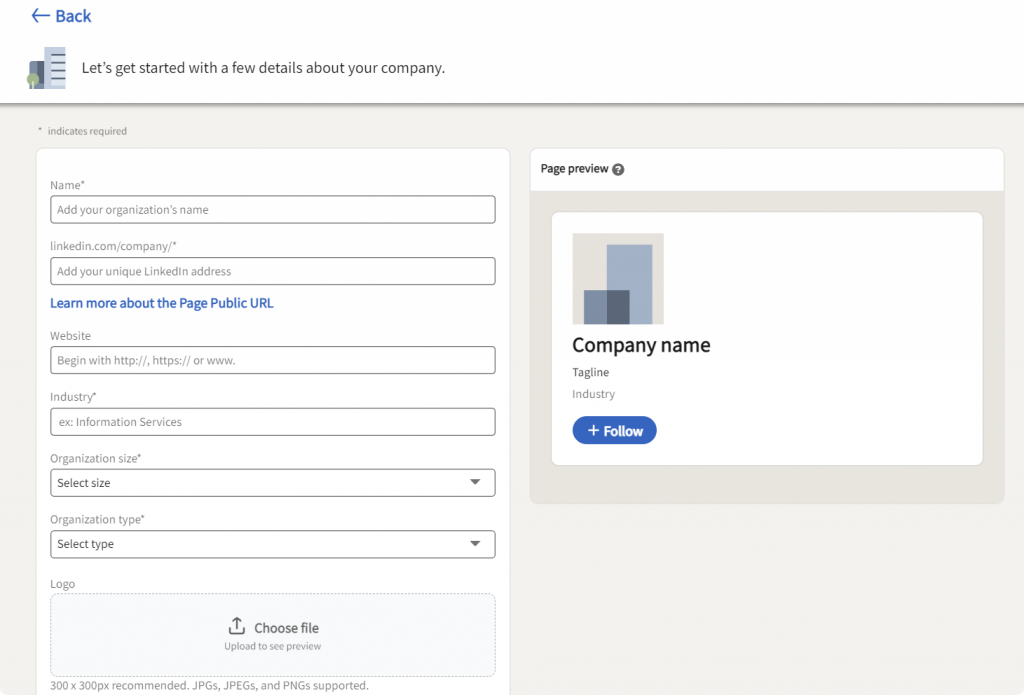 Step 3: Customize the company page on LinkedIn
Una vez que hayas completado los campos requeridos y creado tu página de empresa en LinkedIn, es hora de personalizarla y optimizarla para obtener los mejores resultados posibles. Here are some tips on how to do it:
Add an attractive cover image: The cover image is the first impression visitors will have of your LinkedIn company page. Make sure it is visually appealing and representative of your brand.
Create a custom URL: Customize the URL of your LinkedIn company page to make it easy to remember and find in search results.
Complete all sections: Be sure to complete all sections of the company page on LinkedIn, such as company description, employees, locations and more.
Publish content regularly: Share relevant, interesting and useful content with your audience to keep them engaged and attract new followers.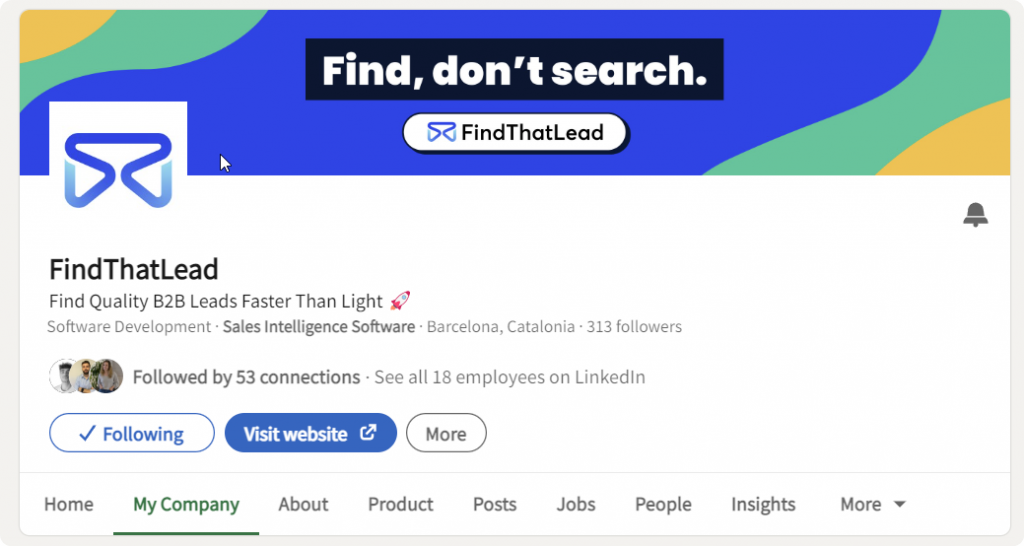 How to optimize the company profile on LinkedIn to improve its positioning?
Having a company profile is not enough, it 's like having an empty profile on Instagram or an empty website What's the point?
There are many spaces that we should take advantage of to optimize, here are a few:
Keywords for the company profile on LinkedIn
Where there is a search engine, there is SEO, come on, on LinkedIn there is also SEO.
Using Keywords or relevant keywords in the company profile on LinkedIn will improve its positioning in search results, and not only in the LinkedIn search engine.
The best sites to include keywords are:
Company title/description
Products and services sections
Postings and status updates
If you are not sure what your Keywords are, do a research based on your niche or sector, choose some that you think are relevant and that also have a good search volume.
Publishing content on LinkedIn
One of the best ways to attract new followers and, in general, leads to your LinkedIn company page is to publish content.
LinkedIn loves everything about generating activity on its platform, and if you do, it will reward you with visibility.
I will always advise you to create a content plan, here are some ideas that you can create:
Educational and training content, in the long run this will make you be perceived as a leader and expert in your sector.
Info on events and trade shows
Case studies and testimonials
Blog/youtube articles
Job offers
Be sure to maintain a balance between promotional and educational content so as not to saturate followers with so many sales messages.
Additional tips to improve your LinkedIn ranking
In addition to using keywords and posting content regularly, there are other strategies you can implement to improve the positioning of your company profile on LinkedIn:
Employees also create content: Encourage your employees or colleagues to create content, there is the barrier of "If my employees create content they will take it away from me", but if you think that is that you are doing something wrong, LinkedIn is another sales channel, and VERY important.
Participate in groups and communities: Join relevant groups and communities on LinkedIn as a personal profile to make connections with industry professionals.
Use hashtags: Include relevant hashtags in your posts to increase their reach and visibility on the platform, you know, I recommend about 3 per post.
Monitor metrics and adjust your strategy: Regularly review your LinkedIn company profile metrics to identify what type of content and tactics work best, and adjust your strategy accordingly.
What can we do with our LinkedIn company page?
Now that we've explored how to create and optimize your LinkedIn company page, let's look at some extra techniques now to finish squeezing the orange:
Perform competitor analysis: Look at your competitors' LinkedIn pages to identify their successful strategies, areas for improvement and opportunities to differentiate yourself.
Encourage employee engagement: Encourage your employees to share company content on their own LinkedIn profiles.
Measure and analyze performance: Use the statistics provided by LinkedIn to measure the performance of your company page, such as the number of visitors, followers and engagement on your posts.
Perform paid ads: You have the possibility of using paid ads on LinkedIn to reach a wider and/or segmented audience.
Implement LinkedIn Showcase Pages: Create specific showcase pages for your most important products, services or business units. These are pages that function as extensions of your main company page.
Make strategic connections: Use LinkedIn to research and connect with influencers, opinion leaders and other key figures in your industry.
Examples of well-created LinkedIn company profiles
Here are some examples of companies that have known how to create successful company profiles on LinkedIn, making the most of the opportunities offered by the platform:
FindThatLead: FindThatLead & Scrab.in 's company page is a perfect example of how a prospecting and lead generation company can use LinkedIn to share useful and valuable content.
Notion, a productivity and collaboration platform, has created a company page on LinkedIn that showcases its solutions, shares product updates and offers educational content on productivity and teamwork. It also highlights its focus on diversity and inclusion in the workplace.
Slack: Slack, which is a hyper-famous workplace communication and collaboration tool, uses its LinkedIn company page to promote its functions, share news and events, and attract new talent. They also leverage landing pages to showcase specific features, such as Slack Enterprise Grid and Slack Connect.
Airbnb: Airbnb's company page on LinkedIn is a great example of how a B2C company can use the platform to showcase its offerings, share information about the company and connect with a global audience. Airbnb regularly shares news and events, as well as content related to its sustainability and social responsibility initiatives.
Conclusion: How to create a successful LinkedIn Company Profile
Having a well created and optimized LinkedIn company profile is crucial to increase the visibility of your business and generate leads.
If you've been following the tips shared in this guide, you 're going to have a company profile that stands out on LinkedIn.
Remember that success on LinkedIn doesn't happen overnight. You have to maintain a focus and be committed to a quality content plan.
The key is to experiment and adjust your strategy as you go along to discover what works best for your business and your audience. Give it a go!