▶️ You will learn the current techniques to do Market Research using LinkedIn and Scrab.in in order to expand your business, company or venture.

▶️ You will learn how to segment your leads, automate the review of LinkedIn profiles, massify invitations and write persuasive questions.
What is a market study?
Market research is a methodology for gathering and analyzing relevant information about a given market in order to better understand consumer needs and wants, identify opportunities and threats, and make informed strategic decisions.
This process helps companies to determine the viability of a product or service in a specific market, to know their competitors, to identify their target audience, and to establish appropriate marketing objectives and plans.
Market research is essential to minimize investment risk and maximize the chances of business success.
The importance of market research
The implementation of a market study is essential to avoid "screwing up" by investing effort and capital in the wrong direction.
It is methodology, beyond being based on a well elaborated technical principle (which it does), it is also a call to act "down to earth", inspired by common sense, prudence and relevance. In other words, the sense of opportunity must be well managed.
Knowing that LinkedIn is the leading professional network in the market, with more than 30 million users, we will teach you how to use this platform – in conjunction with Scrab.In's automation features – to do simple market research.
If the success of your business depended solely on the quality of your products or the good service you provide, we would be in a perfect world.
However, market dynamics depend on many factors and many of them are focused on strategic information management. strategic information management. You will need to direct your efforts to identify your leads and move them to purchase action.
If your brand is not known, or information about your products or services is not well understood, in a space full of competition, you could run the risk of losing capital.
Market research should be done before, during and after the negotiation cycles.
What is a market study for?
The purpose of the market study is to determine the consumption intention of your products before putting them on sale.
To this end, it is important to know about the behavior of the interests, needs, priorities and purchasing power of the target population. Also about competition.
However, the concept also encompasses other aspects of the inner workings of the business but, for this time, we will concentrate on the issue of capturing leads. leads and expanding into a niche.
Let's start with a simple example:
"Carlos" has set out to open a bakery with the best sweet buns in Madrid. He did so without giving it much thought. After all, it's your life's dream.
Over the course of several weeks, you see that your sales are not going as expected. Over time, the following context becomes apparent:
❌ People don't like sweet buns so much as savory ones.
❌ There is a nearby store, with lower quality buns and they have direct suppliers who sell them cheap raw material, so they can sell at half the price of Carlos.
❌ The facility is in a location where people have low purchasing power. Certainly, people like buns, but they prioritize buying cheaper products over more expensive ones. In other words, Carlos' Premium buns are sold, but in small quantities.
❌ The customers who go to Carlos' store have an excellent opinion of his buns, they repeat their purchases but, in the end, it is a small number of middle-class people who live in the city and are just passing through.
Fortunately, all situations are predictable and improvable. In this case, the market study should be done for damage control, but it could have been avoided from the beginning if more information had been available.
✔️ Carlos, decided to diversify his production line and put 70% of production of salty buns and 30% of sweet buns, the latter with a higher price because it is aimed at the city's female interns.
✔️ Also change of suppliers. The gastronomic presentation of the buns is smaller, but at half the price to make them affordable for the majority of local people. Over time, people began to learn about his products and buy his new creations.
In this example, Carlos understood the importance of doing market research to grow his business.
The Internet market has no barriers, it has niches.
This previous example takes into account only a few variables and started from a physical store to put things in a simpler perspective.
However, you should know that the globalization of globalization of Internet content consumption has shaped a new way of making sales. The Internet blurs geographical barriers when it comes to making yourself known, reaching more people and making collaborative agreements. Undoubtedly, it is something you should put in your favor.
Most physical stores or professional services also have digital profiles on social networks in order to reach more people..
LinkedIn is the largest, most specialized, practical and effective network for researching information about potential clients since its profiles are full of information of interest that, in most cases, will allow you to contact them by other means or directly.
How to conduct market research using LinkedIn and Scrab.in
If you are here, it is because you already have a notion of what LinkedIn is and, for sure, you will have a LinkedIn profile created.
However, we'll tell you some tricks you didn't know that will make it easier for you to get important market data.
Target population" segmentation with LinkedIn
In this case, we will use LinkedIn's paid ad format, but without paying a dollar for it, since we will do it partially, in order to obtain information about the size of a niche market.
To do so, log in to your LinkedIn account and follow the steps below:
Click on the option to

create campaign.

It is at the top

Click on the option

Text notice.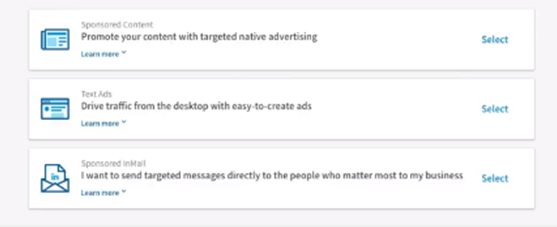 In this part you will be asked for some data prior to the creation of the campaign. However, for what we want to do, the information does not need to be of high quality.

It will prompt you for a name for the campaign. You can put anything that comes to your mind, as it will not be binding for the result.

You can select the Spanish language.

In the field "LinkedIn site" and your "website" you can put any information that fits the format (wwww / @). Same for titles and subtitles.

At this point, we will have reached the section that interests us, called "Use a Matched Audience". Originally, it would be oriented to specify the characteristics of the people to whom you would like to send the ad, but you will use it for

segment leads⚒️.

Each time you use a segmentation filter, the page will show you the number of

will show you the number of leads

on the right side

of the screen,

represented by the number of LinkedIn users with those characteristics.

You have the option to segment the population by: country, location, gender, company of affiliation (by name and size of the organization according to the number of employees), level of study, degrees, specialty, degree or specific academic training, skills and/or years of experience.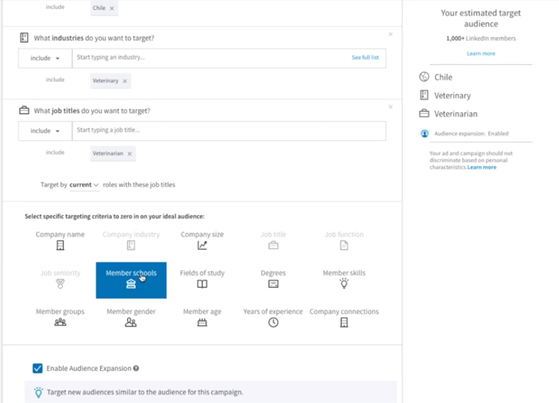 Market survey
Surveys on LinkedIn behave as a publication and as a mechanism for systematizing responses by categories at the same time. Additionally, you will be able to receive comments and reactions, which are sources of non-estimated qualitative information.
Later, we'll explain how you can generate a more in-depth approach using Scrab.in to ask questions questions that seek to lead leads (first degree users) to have an effective contact with you. For the time being, you should focus on having enough information to improve your brand and marketing strategy.
To create the survey, follow the steps below:
Click on the "

start a publication" button

which will result in a sort of status update

.

The option is on the wall part of the LinkedIn update.

When the pop-up window opens, you can type a reference to the purpose of the survey. Now click on the option "Create survey".

3. Fill in the question options (maximum 140 characters) and closed answer options.
How to use Scrab.in to do market research and open frontiers
This "little crab" continues to ease people's lives on LinkedIn and, best of all, it's a tool that developers keep improving.
First contact with leads: consumer profiles
For the specific purposes of this article, it is important that you have already built a 2nd level contact base by using Scrab.in's "review profiles bot within a specific niche (see article on how to automate LinkedIn messages).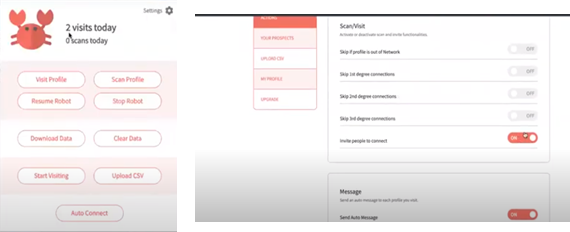 In one week, you will be able to make about 2,000 profile visits. Statistically, you could have about 500 responses from people who would be interested. At this level, contact does not yet occur, but you will be accepted as a friend (1st degree) and you will be able to view their profiles and personal data they share on the network.
When you enter the section "Your prospects" section you will be able to see their personal data, telephone numbers, e-mails and companies they work with.
¡Voilà, a universe of potential customers has opened up for you that you couldn't even think of before!
Second contact with leads: key questions
Having already a contingent of first level friends, you can move on to the next level of contact.
You will be able to ask questions to learn more about them and include them in your sales network.
Recommendations when writing questions with Scrab.in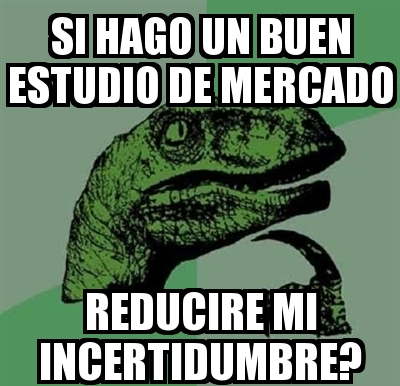 ⏺️ It is better if the questions are direct and engaging. If possible, have your questions address how to solve a specific problem they may have. Doing a little research on their profiles will help you get the "hook."
⏺️ Questions should be kept simple simpleThe first ones on the list are the ones that are at the top of the list to prevent people from getting annoyed. If it is a single question, all the better.
⏺️ Make people feel that their their answers are important. Let's face it, filling out surveys is not a very popular subject for people. For this reason, the questions should suggest possible improvements in terms of accessibility, benefits and functionality of the products or services they need, which would only be possible if you have their support to choose the best option.
⏺️ Try to comment on people's responses and check their reactions.
⏺️ Leave verifiable information to convey seriousness and to let them know that they are not being victims of a scam.
⏺️Dentro from the list of questions, generate a hook question that allows you to verify if the lead is interested in your business, product or service.
For example, if you work with trading advice, you can ask if you have any questions. Do you think that during quarantine it is more relevant to invest in cryptocurrencies? You are not asking them directly if they want your service, but the people who answer "YES" are the leads you can prioritize, as they might be more interested.
Sample market research and types of questions for Scrab.in
Contact questions

with which you can suggest times to make a call, visit or webinar. Don't ask for the time, suggest one yourself to facilitate the customer's response.
How about a free, 10-minute video consulting call to help you with your xxx credit application?
Questions for specific offers:

doesn't have to be phrased like the typical question, just throw in a link for your offers and promotions, but without first saying the best part.
Greetings, Cristian. The Premium mattress offer is about to expire. Therefore, each product costs 65% if you buy two of them. Interested? You can contact us by direct message.
Questions to establish geo-localized links:

Very useful when you have branches or sales points in several locations. The idea is to refer people who may be interested in a service to the nearest point of care.
Greetings, Mr. Guzman. Remember that we have an authorized agent open in Alicantes who could help you with any problem on your high displacement motorcycles. What do you need? We have 32 years of experience in this! (Page link)
Use the Question/WOW strategy:

Hello, Daniel. We are giving away a candy combo. If you mention the @username of three friends in our Instagram post "Local Radio Interview" you will contest for it. Can you? Just go to… (post link here).
Hello, Carla. We saw that you are a marketing scholar. Are we wrong? We only want people like you in our Advanced Workshop on "Marketing for Entrepreneurs". We are waiting for you. Sign up here… (link).
As you can see, market research is essential before embarking on the adventure of starting a business. If you have come this far, don't wait to try our methodology.