Incredible job, many resumes submitted virtually similar, with outstanding experience and education. Who are they calling?
One of the key factors that allow you to differentiate yourself from other candidates is your LinkedIn profile .
Since this platform was created, it has become so important in the application process that there are even positions that do not ask for a resume, just a link to your LinkedIn profile.
But your LinkedIn profile is not just a resume, it 's an incredibly effective public cover letter for networking and, of course, selling.
In this post I'm going to show you how to create a flawless LinkedIn profile in a few minutes.
Shall we begin?
Getting started with LinkedIn: How to create a LinkedIn profile step by step
Maybe you're here and you already have a raw LinkedIn profile created, or maybe you haven't even signed up, so let's start in parts. Let's get down to business!
Create Linkedin profile and login
Let's go to where all these success stories start, at the signup on LinkedIn itself.
➡️Follow this link:
Provide your personal data and follow the instructions until your profile is active.
Filling in the basic data to make a LinkedIn profile
Now that you are logged in, it is time to complete your profile with the most essential data.
For now just the basics, name, location, industry, email, contact details.
These will be the details that will lay the foundation for your solid profile.
Optimizing your profile: How to have a good LinkedIn profile?
We already have the foundation to build on and it's time to build on it, this is the most basic yet important part where most LinkedIn users fail.
Add a professional profile picture and background
The first impression and the first big decision, designing the image we want to convey on LinkedIn, starting with a profile picture and a background on LinkedIn.
As a main premise, we want our image to transmit closeness, confidence and at the same time not to lose the touch of "Professionalism".
Not your ID photo, not the one we got taken at our uni graduation, not the one we posted partying on Facebook and Instagram.
The background/header we are going to use can be done in less than 5 minutes in Canva, for example.
This fund should communicate what we do and who we help, if we leave key contact details such as our website, email and / or phone number, it is a great idea: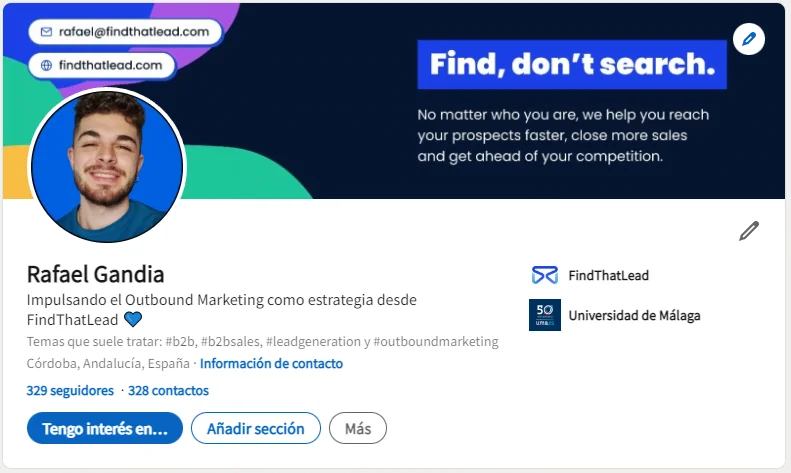 Create an impactful headline
Take it as a super-summarized description of your professional profile, you will find thousands of profiles with their job position in the company where they work.
What I recommend, without any doubt, is to explain what problems you solve and who you help, without euphemisms, you can even include some emoji:
⭐GrowthMarketer | Driving Business Growth through Digital Transformation in B2B Marketing and Sales.
Write an attractive and personalized summary
This space is for you, we are talking about "About", a virgin part where we will show what you feel like: professional achievements, how proud you are of yourself, your professional philosophy.
Think of it as a place where you test your creative and writing skills. Don't bore people but don't leave out the professional part either.

Profile URL customization
This platform gives us the option to create and use a presonalized URL that goes directly to our profile.
It is done from here:

Put your name and a keyword related to your industry, or first and last name.
Aesthetically it looks much better than random letters and numbers.
➡️https://www.linkedin.com/in/rafagandia/
Work experience and education
Let's go to the more "traditional" ormore"traditional" partof LinkedIn, it is not as creative as the other parts, but it is essential.maginate a C.V. with no experience or education. 😶‍🌫️
This is the section where we tell where we have studied, where we have worked and how long we have been in each place.
Add relevant work experience
It is time to enter our work experience, it is essential to add dates, position and company.
The description is the key part, seriously, it' s the area where you're going to show what you've done and what problems you've helped solve.
Upload photos of this, even if they have little to see, photos of the office, of the logo, photos with the team…
If you have been promoted in any of the positions do not forget to put it, as well as other achievements you may have had.
Example: Our team designed an SSR strategy that allowed us to increase our reach in some networks up to 554% (Whatever).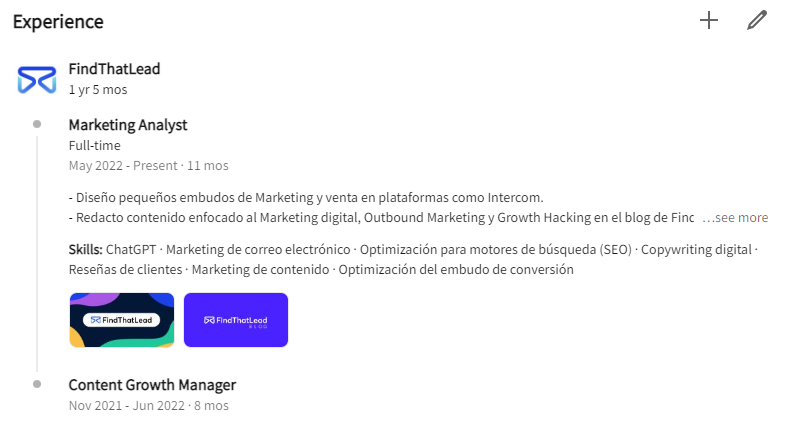 Include educational information
Idem to the above, but focused on the educational level.
In this part you can differentiate yourself by mentioning achievements, awards, talking about projects you have done in the course.
And very important, upload images, graduation photos, for example.
Skills and validations: How to become LinkedIn
Validations are not just embellishments on your profile, they demonstrate your strengths and support your experience, let's see how we can attack them.
Add key skills and request validations
Don't be shy about showing off your skills, but be selective.
Choose those skills that truly represent your strengths and make you stand out.
Then, ask your colleagues, bosses or fellow students to validate those skills, to give them more credibility.
Tip: you can use Scrab.in to automate this part, both to contact your colleagues/bosses/colleagues en masse and to self-validate skills.
Remember that validations count, and a lot.
So don't hesitate to ask for them in a polite and personalized way, and don't forget to return the favor by validating the skills of your contacts.
Achievements section
The achievements section is like a showcase where you can display your successes and professional achievements.
Take advantage of this space to add projects, publications, certifications, awards or languages you speak.
Do not underestimate the power of this section.
Although it may seem secondary, accomplishments can be the factor that sets you apart from other candidates and demonstrates that you are the ideal person for the position.
How to have a good LinkedIn profile: giving and receiving recommendations
Recommendations are the equivalent of reference letters in the digital world.
These are testimonials written by people who have first-hand knowledge of your work and skills.
As I said before, the best way to get recommendations is to ask colleagues, co-workers, ex-colleagues, bosses, clients you have worked with to share some work experience with you.
And of course, return the recommendation.
It is a way to strengthen your network and show appreciation for the work of others. Take the time to write sincere and well-founded recommendations.
Examples of successful LinkedIn profiles
I'm going to present you with an example of a featured profile on LinkedIn that I picked up almost at random.
Sample LinkedIn profile: analysis and applications for your profile
Example 1: Jane Slack-Smith
Profile picture and background: Clear, professional image with a background that represents the problem you are solving and for whom.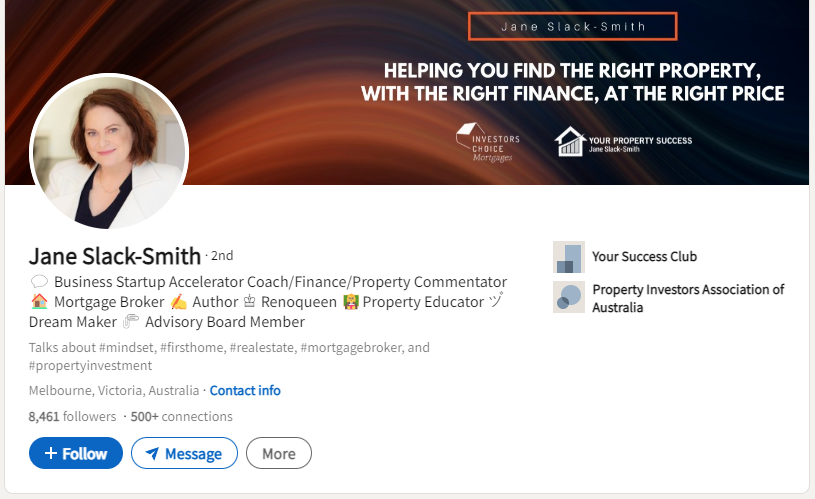 Headline: Add quite a few Keywords from your industry, it's a super summary of what you do, you take very good care of your SEO on LinkedIn.
Summary: Everything we have talked about before, it is a space for her where she shows the "How" she helps and some professional achievements.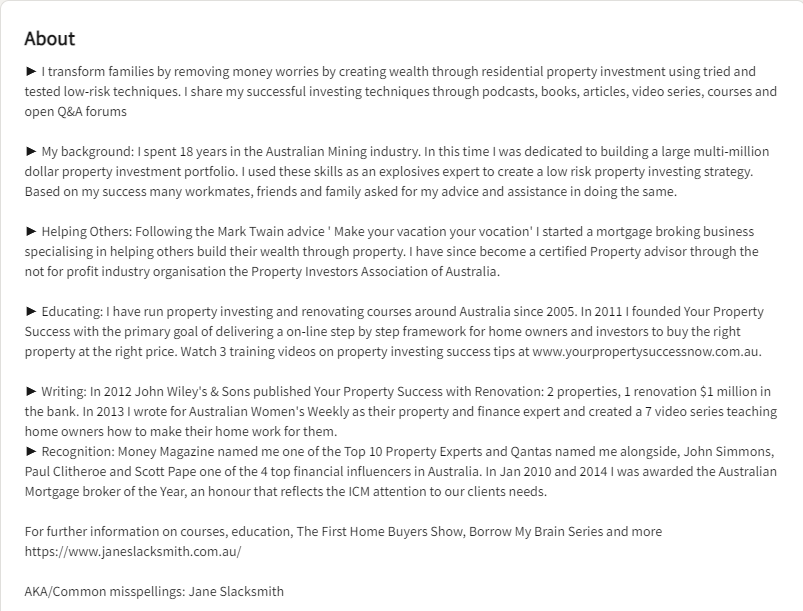 Work experience and education: Each position with its respective description… And it does not fall short, showing achievements with their respective promotions.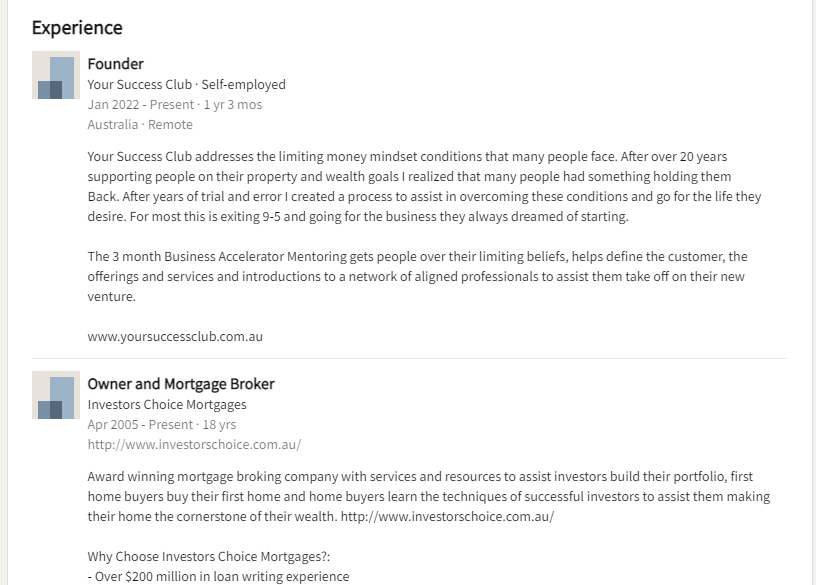 Recommendations and validations: Quite a few recommendations appear from teammates, customers, validations of your skills….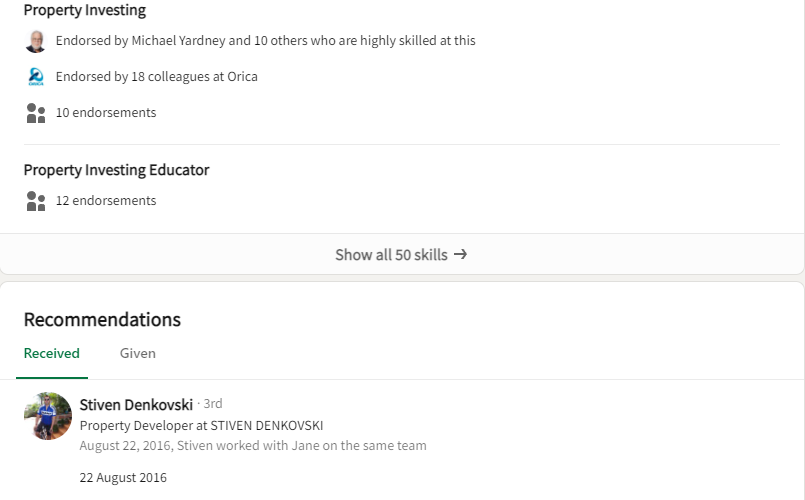 I give it a 10/10.
Final conclusion: The importance of keeping a LinkedIn profile updated and well organized.
The profile is now fine, but there is still a crucial part, which is to generate activity, either by reacting to content or creating your own, which is great for your personal brand.
The key to making the most of this platform is to keep your profile updated and well organized.
As a super-summary, we can say that your LinkedIn profile is a powerful tool to build and strengthen your personal brand, establish meaningful connections and open new opportunities, besides selling more, of course.
Come on, now it's your turn to put everything you've learned into practice and make your LinkedIn profile shine!